.: Assalamu'alaikum n Greetings!
mm..
it has been a very loooooooooonnnnnggg time since the last blog post of mine..
hohoho..
i have tons of stuff to write, and when i am online..
i forgot that urge to write..
heehee..
i was distracted..
distracted with making friends at social site in the Net..
-
Tagged
-
Facebook
-
Friendster
-
Myspace
-
YouTube
.. (eh??)
once you logged in, and you notice new message in waiting for you..
yay!!!
(seriously-i do not have so much friends, so having friends from social site is kinda heaven's gift to me..)
=)
back to the real deal.
in Malaysia, when i am watching the new tv ads..
there is a new auto(this is the time when my vocabulary is going down, huhu..)..
called 'joyride'..
joyride? (it look like a scooter from my eyes..)
presenting.. the new
Honda Icon
??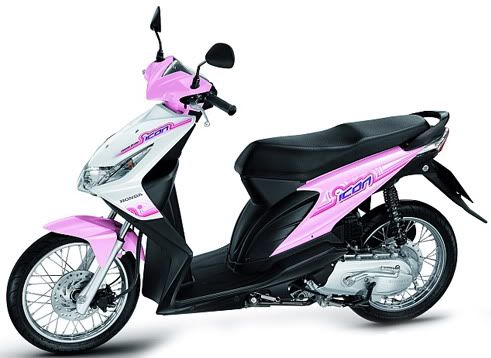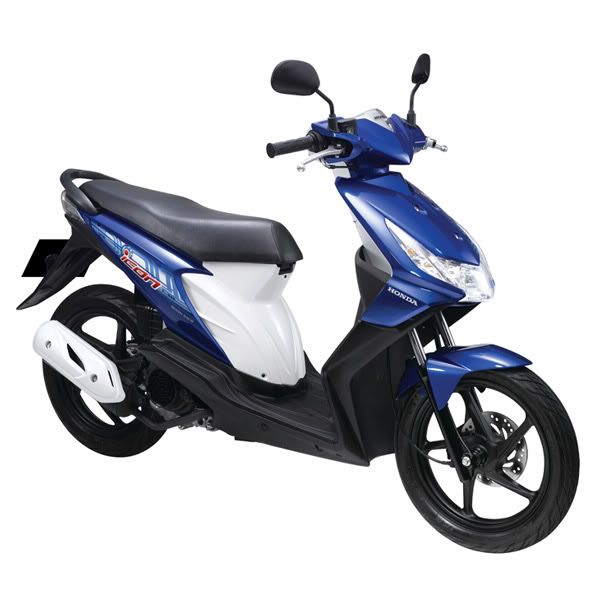 the right one is Honda Icon

Pearl Angel Pink

, and the left one

is

Metallic Vital Blue

.

the total arrays of color from Malaysian Honda site is five:- the black one, white, blue, pink and red. with price of RM 4,688 (on the road)

, aa..?? 5k??

that will took me about nearly one year if i want to buy it cash..

but it still look like a scooter to me..

the recent auto that inspire me to work hard is the

Yamaha 135 LC

..

and it's price is RM 5936.80.. nearly 6k..

one year and a half.. ( T,T"') huhu..

whoa.. Honda Icon is 110, and Yamaha LC is 135..

i will use Yamaha to go to work, and Honda to go for joyriding.. (that word exists ehh?)

hohoho..

i do care for speed though, but i am not the bike-mania..

stuff like cc, torque, clutch etc etc etc..

i do not care as i want the fastest, say the coolest look..

Malaysia is a country where pimp the ride totally would lead to paying summons or your bike is taken by the authority.. (country that prefer original is the best option)..

even placing the stickers must comply with the rules..

what a wonderful world~~ ee yay~~ (sing like that old song..)

but comparing joy ride and a scooter..

the body of a scooter is kinda 'big' to skinny guy like me..

(i'm not that weak, but lifting that bike must be not a problem if 'something' happens to me)

and Honda Icon's body look smaller than actual scooter..

naahh, no money no auto..

do buying older type of auto like Honda EX5 is enough for me before i actually bought that dream auto of mine??

hey, i have to watch out for it's security power you know..

new bike comes with new lock system, and well, older bike come with..

standard lock system..

plus living here in Malaysia, we have watch really realy carefully for our bike..

the thief are getting cleverer and super aech day..

even with super lock you can find that your bike is not there already..

just be careful, will ya?

Yamaha 135 LC color: red, black and white.

LC - liquid coolant.

m2mdoh: "In support of originality - stickers, colours, quietness, etc etc etc."

:.